Spring flower shows in Viterbo
Spring flower shows in Viterbo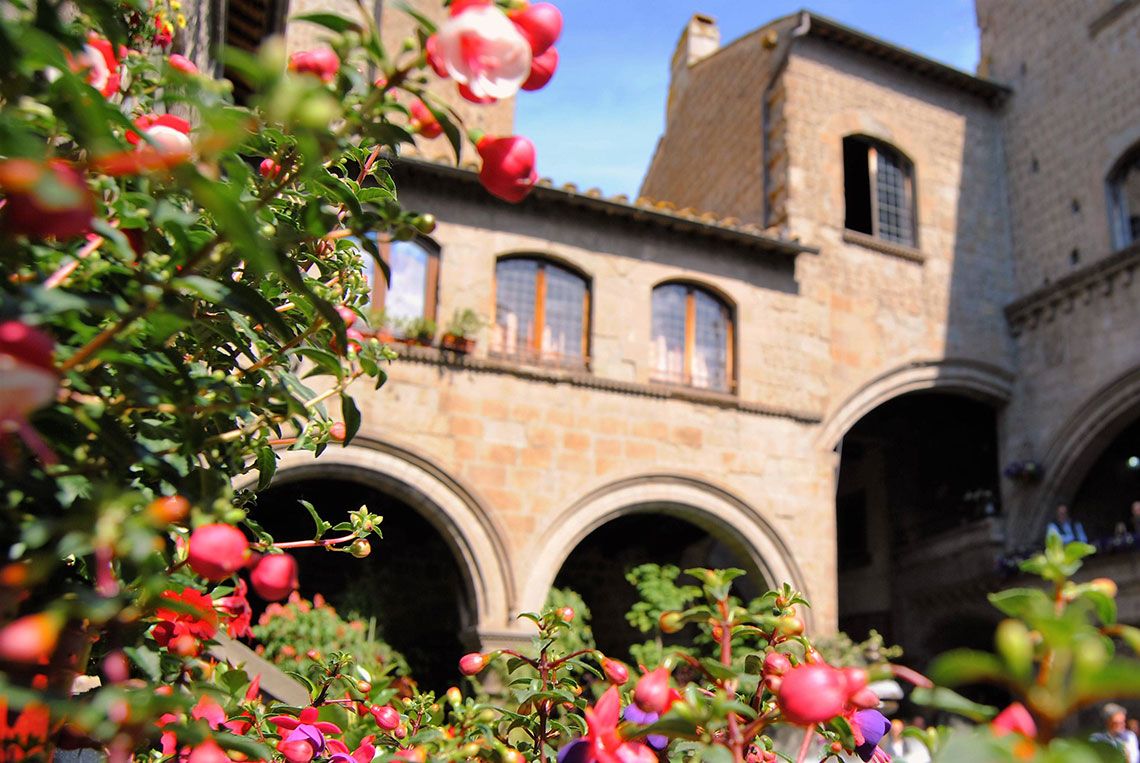 Spring 2018 marks the end of a blistering winter. Nature awakens after the long, winter sleep and colourful flowers in bloom are preparing to be admired. Viterbo's medieval centre, the Botanical Gardens and the neighbouring hamlet of Vitorchiano are just about to become the stage of a series of charming open air flower shows that won't fail to amaze you! Get your diary out, here's a detailed list:
San Pellegrino in Fiore
The first flower show that signals the arrival of the new season is San Pellegrino in Fiore. This event – that showcases the best flowers and plants from local nurseries – takes place in the squares and alleys of San Pellegrino, Viterbo's beautiful Medieval quarter. The location is just perfect as the bright and vibrant colours of the flowers and plants on display stand out against the grey of peperino ( a local, volcanic stone widely used for buildings in the Middle Ages), thus creating a scenography of spectacular beauty.
Where: San Pellegrino, the Medieval Quarter
When: 28th April – 1st May
Admissions: Free
Peonies in bloom
The Centro Botanico Moutan has the largest collection of Chinese peonies in the world and it is located in Vitorchiano, a Medieval village only 5 miles away from Viterbo.
The garden has 200,000 plants and over 600 different varieties, belonging to all the existing Chinese species. A hill is entirely covered with green bushes dotted with colorful peonies: from white to delicate shades of pink, from elegant purple to intense scarlet red.
In the garden there is also a Cafè and a Restaurant. Stop by to relax and enjoy the local cuisine whilst basking in the sun.
Where: Centro Botanico Moutan, Strada Ortana 46 - Vitorchiano
When: April – May
Admissions: €4,00 - €2,00 for kids aged between 6 and 16 – free for kids under 6
Verdi e Contenti
Recent yet already very popular is Verdi e Contenti (literally: Green and Happy). This event, now in its second edition, is dedicated to flowers, plants and eco-friendly handicrafts. A weekend dedicated to exploring Viterbo's Botanical Gardens and learning about sustainable themes, as Verdi e Contenti aims at spreading ecological thinking and environmental awareness. The focus, this year, is on biodiversity.
Where: Orto Botanico, Viterbo
When: 26th – 27th May
Admissions: € 5,00
Peperino in Fiore
Peperino in Fiore is held in Vitorchiano, a lovely Medieval hamlet perched on a huge peperino rock only 5 miles away from Viterbo's city centre. During this festival, the village centre is impeccably decorated with an amazing variety of flowers and plants installations. Stalls selling traditional street food and local wine are available throughout the itinerary of the flower show.
Where: Vitorchiano's medieval centre
When: 1st – 3rd June
Admissions: Free